The modern-day customer is highly favored. Unlike in those days when businesses could only be reached by phone and fax communication, today, customers can engage businesses faster and easier, thanks to social media.
Research studies have shown that 92% of businesses have a social media presence. This means customers can now directly grab the attention of businesses.
On Twitter, Facebook, LinkedIn, and Instagram, businesses are putting in place customer service strategy to boost sales, increase customer loyalty, and better their reputation and image. 
Businesses are now becoming aware, more than ever, that social media revolves around conversation and instant communication.
Studies carried out by Edison Media Research has shown that close to 70% of customers on social media expect a response from businesses within an hour.
This shows that customers demand fast response time. To social media customers, fast response time is synonymous with meeting customers ' expectations and increased customer service satisfaction.
Having a winning social media strategy is a prerequisite for increased patronage and business growth.
To have a winning social media customer service strategy, your business must not just exist on social media; it must listen and respond to customers.
This is imperative because you wouldn't want your customers to grow dissatisfied and your competition snapping them up.
Again, the success of your social media customer service strategy is linked with your brand image.
To create a winning social media customer service strategy, businesses today are using efficient yet highly affordable chatbot messenger to streamline their engagement with customers.
Chatbot messengers offer a lot of advantages for businesses that are looking to master effective social media customer service strategy.
They have been regarded as 'concierge' because of the smart way in which they guide and communicate with customers, and amiably assist them. Messenger chatbots can be integrated into multiple social media platforms, giving your customers a seamless omnichannel experience.
Speed is the language of technological progress. Imagine a scenario where your customer sends a message to you in an inopportune time when there is no customer service rep to respond.
That customer will quickly move on to one of your competitors who is efficient at responding on time. With a chatbot messenger, your business is better posed to provide timely and innovatory customer support services on social media.
This article aims to show you how messenger chatbots can give your social media customer service strategy a huge boost.
How chatbot messenger can improve your social media customer service strategy
Real-time engagement
On social media, customers can directly communicate with businesses. The social media environment has influenced the increasing demand for fast response time from customers.
Customers can not afford to wait longer for a reply, as studies have shown. In this digital age, the customers wield enormous power and businesses must attune themselves with growing customer expectations.
As social media channels like Facebook and Twitter, are constantly introducing new technology to allow customers to interact with businesses better, businesses should understand that customer care is at the heart of this innovation.
In summary, customer engagement on social media is fast becoming real-time and instantaneous. So how do businesses catch up with this fast-paced development?
Statistics published by Pinsent Masons and Innovate Finance have revealed that 63 % of customers 'would be happy to use chatbots to answer everyday queries'.
An AI-powered chatbot messenger like Zebrabuzz utilises natural language methods to evaluate any question customers may have and reply instantly to satisfy the needs of your customer.
A chatbot messenger is a time-saver for customers and businesses. It is easy to build, and when they are created with the interest of customers at hand, they can creatively engage with customers and keep them happy.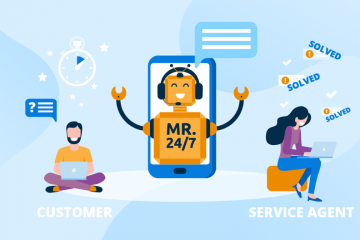 24/7 customer service
A vital fact every business should note while implementing an effective social media customer service strategy is that social media has increased the level of customer expectation.
The key to sustainable business growth is customer-centricity. And for a business to be customer-centric, uninterrupted round-the-clock customer service is compulsory.
This will not only heighten customer engagement but allows your business to grab opportunities that would have been missed if your customer service strategy was merely reactive.
24/7 customer service is essential if your business is international, or you are aiming to enter the global market or if your business revolves around time-sensitive products and services.
What you should understand is that on social media, customers expect exceptional customer service and support, even during off-business hours.
To gain the loyalty and continued patronage of your customers, do not allow time differences or border deter you from offering great customer service.
Implementing 24/7 customer service into your social media customer service strategy is the key to customer retention and acquisition.
Integrating chatbot messenger into your business' social media channels is a great means of providing non-stop, round-the-clock, real-time customer service.
With  chatbot messenger, your customers will be aware that your business is always ready to assist them. In direct contrast to humans, chatbot messengers do not sleep.
A messenger chatbot is always on deck to deal with customer's enquiries and questions. In cases where the chatbot messenger gets very complex questions, it can display to your customer when human customer agents are available to keep in touch. 
Quicker access to information
Customers on social media are always seeking information from businesses. Questions like: 'what is the price of x?' or 'what is the refund policy?' are parts of the billions of messages sent across social media channels.
This has always been problematic for some businesses because this type of 'basic' questions tends to be repetitive and somewhat monotonous.
Customers are quick to look somewhere else if they can't get quick answers to them.
So how do you provide up-to-date, accessible and consistent information to your customers in a bid to give them a rich customer experience? You can use chatbot messenger to personalise questions to enrich consumer's experience on social media.