Although marketers spend quite a lot of money on Facebook Ads, that money may go down the drain if they do not have a plan to respond to the Facebook Ad comments they get.
You may have created the best Facebook ad in history, but if you are not engaging with and replying to the comments, you are missing a great opportunity to gain potential customers and leads.
If you want to increase your chances of getting more customers, it is important to take advantage of the Facebook ads two-way communication channel and respond to the comments.
Although it was difficult to find and respond to your Facebook Ad comments a few years back, it has become easier now.
Now, by just logging into your Facebook page and navigating to your inbox, you can easily respond to any Facebook Ad comment.
However, as easy as that sounds, it can be even easier if you automate your Facebook marketing with several marketing software tools that are available today.
For instance, the Zebrabuzz marketing software tool has a comment automation feature that can automatically respond to comments on your page for you without any supervision.
Therefore, with many tools available today, you no longer have to respond to your Facebook Ad comments manually. This tool automates the process for you, and it will instantly reply to any of the Facebook Ad comments you may have without customers having to wait too long.
How Do I respond to Facebook Ad Comments?
As stated earlier, you can also respond to Facebook ad comments without the easy automating process. Here's how:
Login to your Facebook page and ensure you have allowed all the necessary permissions needed to access messages. It is recommended that you use the business subdomain of your Facebook page. You can access this by adding 'business' before the URL to your Facebook page.
Navigate to 'Inbox' and select it.
This takes you to your Facebook page's inbox where you will find messages and comments. Incoming and outgoing messages are kept in the 'Messages' tab while in the 'Comments & More' tab, you will be able to see the comments on your organic and paid Facebook Ads including Instagram if you have linked your Facebook page with an Instagram account.
And that is all; you will find all the comments on there and reply to each of them one after the other, but you don't have to!
Why you should Automate the Process of Responding to Facebook Ad Comment with Zebrabuzz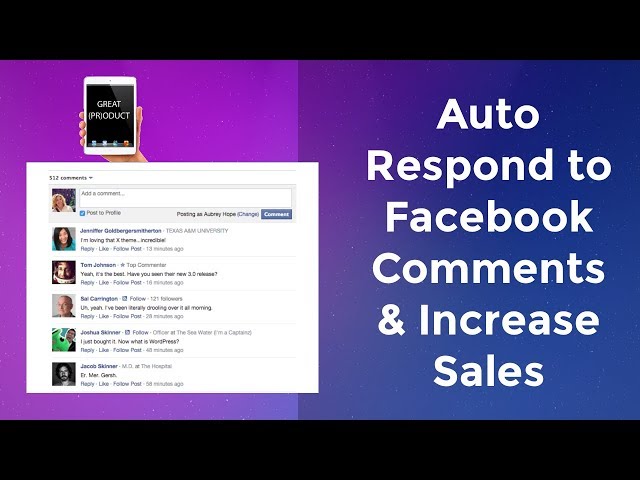 As it is likely, you will have hundreds or thousands of comments; it is difficult to respond to the entire Facebook ad comments you have. You may decide to ignore the majority, but besides losing potential customers, your business' credibility is at stake.
Replying to all comments on a Facebook Ad can become stressful, burdensome, and you may even forget to do the other marketing duties you have.
With the Zebrabuzz marketing tool, you can send automatic and immediate responses to the commenters on your Facebook Ad or other posts you have on your page.
The concept of responding immediately to a Facebook Ad comment does not mean you have to address what the customer wants at that point, but by responding immediately; you show the commenter that you are committed to their experience.
If you are worried about reply being too generic, this tool allows you to personalise each response such that each of your replies includes either the first or last name of the commenter, or both.
Asides that, the automatic response can also include a link that either directs the commenter to your Messenger where you can chat directly or to an e-commerce store or website.
You can then attend to them directly and deal with whatever issues they have. Another benefit of the Zebrabuzz marketing tool is that you do not have to engage manually with them via your Messenger either; you can automate that as well. Convenient, right?
With the Zebrabuzz Facebook Messenger chatbot, your existing and potential customers have a highly intelligent chatbot that can attend to their needs in record time.
The chatbot is equipped with the latest artificial intelligence tool that will respond intelligently to your customers and even sell your products and services.
Also, the comment automation feature of Zebrabuzz allows you to delete or hide comments on your Facebook posts, Ads inclusive. If there are any negative comments, this feature can hide them.
To hide comments on Facebook, you will have to hide each of them manually. However, with the Zebrabuzz comment automation tool, it can automatically do that for you.
Steps to Automating Replies to the comments on your Facebook Ads and Posts
First, you integrate your Facebook account into your Zebrabuzz account and enable bot connection.
Navigate to the Comment Automation tab at the left-hand side of the dashboard and then click on 'Reply Template' from the drop-down menu.
In the page that comes up, click on 'Create New Template' and fill the form that follows according to your specifications.
You have the chance to list the words you deem to be offensive, and immediately the tool finds comments that contain those words; it deletes or hides it immediately according to your choice.
To make your response to the comment personal, you can also include the first or last name of the commenter.
After filling in the details, click 'Save' to confirm the operation. From then, the comment automation feature of Zebrabuzz will automatically respond to your Facebook Ad comments without the need for supervision from you.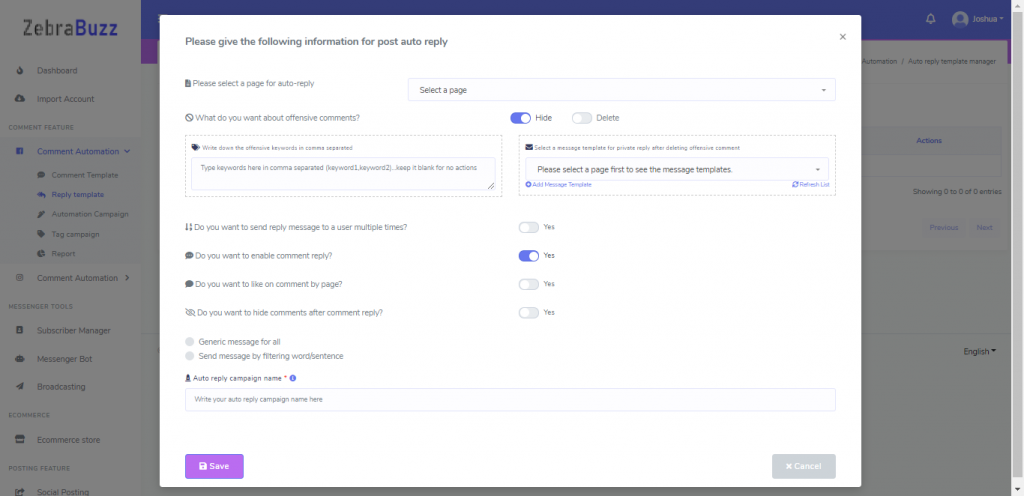 If you want to learn more about the power of Zebrabuzz's Comment Automation tool, read the blog on it here or here to get started.