Chatbots are like the new kid in school – the rave of the moment and rightly so. There is a reason why bigwigs like Google, Amazon, and Facebook have adopted them.
Although chatbots have been around for a long time, it gained significant prominence after Facebook Messenger chatbots were launched in 2016.
With the rate at which online marketing is moving, using Facebook Messenger chatbot is one of the best ways to boost your business.
Also, the advent of artificial intelligence in Facebook Messenger chatbots like Zebrabuzz and the likes has given many businesses the edge over their competitors with more benefits in store than regular bots.
Like the newest toy, chatbots are now in demand due to their many advantages. There are many platforms in which businesses use to market their products today, and one of them that give the best opportunities is Facebook.
Facebook Messenger has over one billion users. That is not the number of people who downloaded the application, but the number of people who actively use Facebook Messenger to chat with their family, friends, and now also to potentially your business!
Whether you are a small-business owner, medium-scale, or large corporate, using Facebook Messenger chatbots is a great way to boost your business.
How are Messenger chatbots a great way to boost my business?
Why you Should Use Facebook Messenger Chatbots to Boost your Business
Many people now prefer to use social media instant messaging platforms, including Facebook Messenger, to get in touch with a business.
Messenger is "the new way to do business," according to Forbes. Other research reports show that within the next 5-7 years, Messenger marketing will "become the single biggest marketing channel in the world."
With this increase comes the likelihood that your business receives more messages and more contacts which could be overwhelming to give timely responses to.
Do not forget that according to a recent study of consumer behaviour with online businesses, 95% of users who will contact you expect a response within the first ten minutes.
Therefore, with Zebrabuzz, for instance, you can automate the process of answering simple and basic questions to give your customer care more room to attend to serious issues.
Instead of customers calling and waiting on hold to speak with an agent, they can chat with the bot and get their issues sorted out in record time.
Another reason why Facebook Messenger chatbots can boost your business is the outstanding open rate on offer.
Chatbots like Zebrabuzz, offer up to 95% open rate because every time a message is sent, your customers receive it like a Facebook Messenger chat notification meaning they check it instantly.
You can also get to send messages to as many people as possible at the same time using chat blasts. Zebrabuzz is also equipped with artificial intelligence, meaning it can understand and use natural language to make chats more fun to read as well as using videos, GIFs, emojis, and interactive buttons.
Facebook Messenger chatbots like this have the things that can boost your business; can build massive email lists, increase traffic, speedy and efficient customer service, personalised customer experience, generate quality leads, and many other things you want and need in your business.
However, there are certain ways it should be used and procedures to boosting your business on Facebook with the use of chatbots.
How to Use Facebook Messenger Chatbots to Boost your Business
Automation is important to stay competitive in the online business world today. Several businesses, especially on social media platforms like Facebook, have realised this and have now switched to using automated services.
As chatbots can provide support 24/7, they make processes more efficient for both business and customer.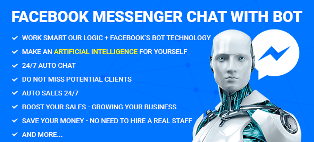 If you want to use Facebook Messenger chatbots to boost your business, here are ways you can go about it:
Use Chatbots to Improve your Customer Service
This is one of the most obvious ways to use Facebook Messenger chatbots to boost your business.
With automated messaging, there is a guarantee that your customers get immediate and timely responses to their questions and queries.
Chatbots are very fast, which means they can reply immediately a question is asked. In fact, with Zebrabuzz, you have the power to control how fast your business' response is!
You can set a response delay from 0 to as many seconds or minutes as you want.
Immediate and timely responses show that you are committed to the smooth and seamless experience of your customers.
Also, by providing immediate responses, you limit the chances of existing and potential customers sourcing alternatives from your competitors.
Asides immediate responses, another way Facebook Messenger bots can boost your business is their availability. Chatbots are available 24 hours every day and are not characterised by several factors that can keep humans off duty.
As they make your business easily accessible even on holidays and when you sleep, you ensure new and existing customers always patronise you.
To Generate Quality Leads
The goal of many online businesses is to make profits, and Facebook Messenger chatbots can help boost your business to make more profits than you currently are. 
Zebrabuzz, for instance, can generate quality leads that eventually become conversions. Leads are your business' potential customers, and it can help you find them.
It can also advertise and market your products and services via Facebook Messenger. Chatbot marketing is the most effective type of marketing with assurances of up to 95% open rate.
Email marketing is the closest form of marketing, and it is still miles behind with assurances of only a maximum of 10% open rate.
A recent study also showed that only people above 45 use email more often than instant messaging apps like Facebook Messenger which means you have an entire generation on your hands.
People are more likely to open a message on Facebook Messenger because they are unaware that a bot sent it.
Facebook Messenger chatbots will boost your business by significantly improving conversions.
Send Broadcasts and Chat Blasts
As there are guarantees of high open rate, it is important to use that benefit to send broadcasts and chat blasts to your subscribers.
Facebook Messenger chatbots can send blasts to all your customers or a section of your customers at once.
Broadcasts and blasts can be used to let customers know about important and recent business news as well as things that can interest them.
They can be made aware of promos, offers, future product launches, and many other details. A smart way of using broadcasts and blasts is not to spam them with messages.
It is important to make your broadcasts more conversational and with artificial intelligence in Zebrabuzz, you can achieve this.
Integrate your Store with Facebook Messenger
As your customers use Messenger to chat with their loved ones, they usually do not want to leave quickly.
This means they could come across your product, be interested in buying, but as soon as they realise they may have to leave the platform, they lose interest.
Zebrabuzz is one of the Facebook Messenger chatbots that help bridge this gap. Instead of taking your customers out of Facebook to buy products from your e-commerce store or site, you can bring the store to them right there on Facebook Messenger.
With the 'e-commerce in Messenger' feature of Zebrabuzz, this marketing tool ensures when a customer is interested in buying something from you, they do not have to leave their loved ones to do so.
Your customers can go through the sales cycle right there on Facebook Messenger. This will make their experience with you easier and simpler which will encourage them to make purchases from you in future.
Despite all the benefits chatbots offer, the present features are still only but a swipe in a massive wave of progress. There is no better time to start harnessing their incredible features in your business than now.