The structure and purpose of social media ensure that it can play a very significant role in customer service.
The structure in that it is a communication system between two or more people. This structure of being able to reach a business directly for complaints, questions, enquiries etc. makes it very easy on customers.
Service ease is one of the many customer service nuggets, so the main essence of social media is already a benefit of using it for customer service.
Also, the purpose of social media in that it is a conversational or two-way system of communication between two or more people ensures it also plays influential roles in customer service. Conversational marketing has been described as "the new way to business", and social media is one of the best tools that ensure you do business the right way.
Using conversational marketing tools like chatbots which can also be integrated into your social media, among many other channels can reap great benefits for your customer service department.
Many leading businesses today now use AI chatbots like Zebrabuzz, for example, in their social media marketing and customer service.
You can use social media to do great things in your business, especially in your customer service department, and there are many ways they can help.
Social Media and How it is Important in your Customer Service
As much as social media plays salient roles in your business' customer service, these roles must be carefully identified, and strategies to use them properly must be drafted.
All it takes to bring down a business in the 21st-century is a single tweet or post. Therefore, as powerful as social media can be to your business, you must ensure you use in well so disgruntled customers will not use it as your downfall.
This blog will expose you to some of the many roles social media can perform in your customer service department.
Social Media Ensures you can be Available Round-the-Clock
Availability is one of the many reasons why some of your competitors are getting more customers than you are.
Social media itself has ensured that customers now have very high expectations about a business, meaning they are unlikely to patronise any company that does not conform to their expectation.
Customers want any business they are reaching out to be available every time. Literally, every hour of the day.
Recent studies show that a whopping 95% of customers who contact an online business expect a response within the first ten minutes.
Therefore, if you are an online business, availability must be your forte, and social media has a significant role to play in that regard.
However, is it humanly possible to be online forever? It is not, but it is possible by using a hidden marketing tool, and you don't have to stress yourself to achieve this.
Suppose you hire a social media manager to handle your pages, such a person is still a human. Although it is the person's job to always be online, can they? There will be a risk of burnouts. Humans can also go on a quick break, try to get coffee or may simply be available due to illness or other reasons. Add that to the cost of maintaining increased employee count, and you may be straining your budget unnecessarily.
Nevertheless, with chatbots, you can provide 24/7 customer service effortlessly. A chatbot is a marketing tool that can simulate conversation in real-time to as many people as possible.
Some chatbots like Zebrabuzz also combine artificial intelligence like machine learning which ensures your bot can learn new words and phrases on its own, as well as natural language processing to be able to understand and reply in natural and easily comprehensible language.
Chatbots can also be integrated into many social media platforms like Facebook Messenger, Instagram, and the likes as well as on your website.
With chatbots like Zebrabuzz, you will be able to provide 24/7 social media customer service without straining your energy or budget. As a chatbot works like an employee, but one that does not need or take a break, you will be able to focus on other parts of your business to improve efficiency.
Social Media Ensures you Can Provide Quick Responses and Solve Problems Faster
Another role social media plays in customer service is that it ensures you can provide quick responses and deal with issues quicker.
As social media assures direct contact between your business and customers, any query, questions, complains, and enquiries will be dealt with immediately.
Customers are not patient. The variety of options they have, i.e. your competitors make it easy for them to switch once they perceive you to be slow.
To solve the problem, all you need do is type out the solution and tap send. However, this can prove to be cumbersome, especially when replying to more than one person. It gets trickier if they are approaching 5 to 10 and upwards of that. You run the risk of leaving some messages unresponded to for too long or mixing up requests and providing wrong answers which can be very bad for your business image.
As replying to many people at once can be stressful and slow, this does not have to be anymore when you make use of chatbot marketing tools like Zebrabuzz. Chatbots can respond to as many people as possible simultaneously.
There are no risks of burnouts or mix-ups and suppose all your customers message you at once; they will be attended to with unmatched speed and precision!
In fact, Zebrabuzz allows you to set the timeframe for your reply, and you can respond as early as '0 Second.'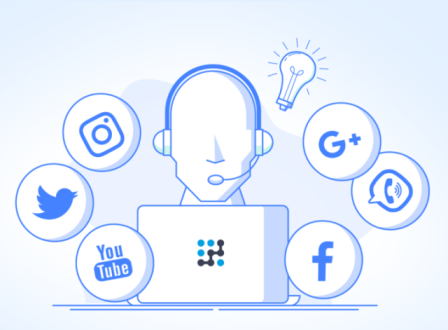 Social Media provides an avenue for Personalised and Tailored Service
Personalising your customers' service is a 21st-century strategy for improving their experience. Gone are the days of "one size fits all" approach, and you must now make each customer feel like they are your one customer.
You can do this by recommending other products and services that fit the description of what your customers want or what they recently purchased.
With artificial intelligence, chatbots will ensure that you can provide a more personalised approach for your users. You can use your customers' names in every response as well as offer other products and services you offer, which they might be interested in based on their activity on your store.
Social Media helps build, breed, and nurture customer relationships
The loyalty of your customers to your business is essential and social media can play a role in ensuring you get it.
As you can be easily accessible and have private and personalised conversations with your customers, you can build long-lasting relationships with each customer. This will ensure that they remain loyal to your brand, which is vital in a sea of rivalry that your business faces.
There are several more roles social media plays in customer service. However, with these roles, there is one constant – chatbots.
Chatbots can help automate the whole process of customer service and marketing, whether on social media or via your website. Automation is key to improved business operations, and with many tools on offer that significantly boost your business in dynamic ways, Zebrabuzz represents an excellent opportunity for your business.