Our world is social media-obsessed. A lot of people prefer Facebook chat to communication via phone call or email. As many as 60% of social media users regard social media as their source of news and entertainment.
Within the last three years, 70% of social media users have reached out to businesses across different social media channels.
Using social media as a customer service tool shouldn't be difficult. With the advent of new technologies, businesses can now interact and engage with customers and increase patronage, loyalty, and acquire new customers.
Innovations – like messenger chatbots have made it possible, more than ever before, to connect with customers and improve brand reputation. A lot of businesses are now using this tool to provide quality customer service to customers on social media.
Chatbot messengers are readily accessible and ever-present to offer personalised customer support to customers on social media. This is necessary for increased profitability, better review and positive brand reputation.
So how best do you show your customers that you value them? Through an effective social media strategy that will utilize a timely and effective customer service tool. The success of every business relies on exceptional customer service.
In this article, you will learn some tips that will enable you to take advantage of the flexibility of social media to provide great customer service and support using a messenger chatbot.
Respond at all time
This is one of the most important rules of customer service. Most businesses do not follow it.
A lot of times, you may get questions from social media users about your brand. If they get answers regularly, it will show that your business is very responsive.
Being 'responsive' is equated with 'caring' and 'treating customers as a priority. This is key to building a great relationship with your customers. It is a good way of beating your competition and winning the hearts of customers.
So how do you deal with lots of questions and complaints from customers? By using chatbots.
A messenger chatbot can work round-the-clock to help answer repetitive questions, inquiries queries from your customers. This saves your time and significantly reduces your customer response time.
With this chatbot solution, your human agents can focus on other complex customer complaints. Quick response time will increase the trust and confidence your customers will have in your products subsequently.
Create conversations
How you relate to your customers can affect your brand. The key to customer satisfaction is a cheerful, delightful, and respectful communication.
Quality customer service revolves around 'treat humans like humans' idea. This means your communication with customers on social media has to be clear and friendly. The tonality and style should be devoid of aggressiveness or slang or mumbo jumbo.
Let's look at these questions to identify the one that is more suitable for customer service communication.
    Welcome.     What can I do for you?
   
    Hello     Ben, I hope you are having a great day? How may I be of assistance today?
It is not difficult. The first is cliched, and everyone is tired of it. The second has a tonality that is friendly and hospitable. This has a big impact on the relationship with customers.
Do you know that chatbot messengers can help simplify your entire interaction with customers? You can easily build chatbots that are polite, friendly, and even witty.
Your chatbot can have a name and a unique voice for the sake of authenticity. This can give your chatbot a 'personality'. The chatbot can easily blend with your brand identity (think of Amazon's Alexa or Apple's Siri) and become the face of your customer service team on social media.
Timely response
It is not enough for your business to have a social media presence and reply consistently. Quick replies or fast responses are equally important.
Studies have shown that customers expect brands to reply to their enquiries and complaints within 30 minutes on Twitter. On Facebook, fast response time is a big deal.
How can businesses meet up with the high influx of complaints and enquiries from social media users that demand fast response? Through chatbots. 
Chatbots are AI-powered tools that can engage your customer in real-time messaging and provide solutions to them. With chatbots, your customers won't slip away to your competitors; your business will be available to respond to their inquiries around-the-clock.
Businesses that have integrated chatbots into their social media channels do not worry about their customer service reps being swept over by endless inundation of calls and messages.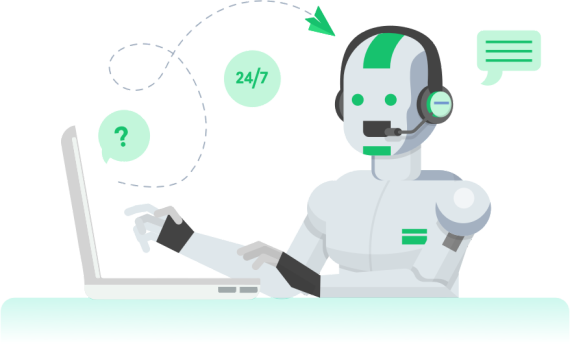 Chatbots are ever ready to complement the efforts of your customer service team. Chatbots are AI-powered to learn and predict your customer's behavior; this will help in an effective, tailored, and instant reply to your customers.
Monitor customer data
To improve your customer service delivery, you have to organize and analyze customer data consistently.
This will help in satisfying your customers, which in turn will lead to high customer retention and increased profitability.
With effective monitoring of customer data, you can acquire new customers and understand the buying behavior of your old customer.
Big corporations and multinational firms spend millions on analyzing customer data on social media.
So what is the most inexpensive and affordable for growing businesses like yours to analyze customer data? Chatbots.
Chatbot messengers are effective tools that can help your business have a full understanding and evaluate customer data.
Chatbots can be used to gather feedback from customers in the form of simple questions. This useful feedback can be used to improve website conversion and traffic. 
Final thoughts
Messenger chatbots should be part of every business social media customer service strategy because of their numerous advantages.
They are not only affordable and time-saving, but chatbots are always available for customers to interact with.
By integrating chatbots into your business strategy, you increase value for your customers and deliver exceptional customer service experience, especially on Facebook.